World Series of Fighting might want to pump the brakes a bit before getting too far ahead of itself planning its New Year's eve event in New York City.
The promotion is tangled up in a hornets' nest of an investigation currently being conducted by the Nevada State Athletic Commission involving, among other things, WSOF's mass systematic cover-up of the incestuous dual-role of former vice president and matchmaker Ali Abdel Aziz, who concurrently acted as a manager of fighters he matched for WSOF. Depending on the findings of the NAC, the promotion could find its license suspended until the mess gets sorted out and Abdel Aziz could be banned from managing fighters in any state-run by an Association of Boxing Commissions member commission.
As far Abdel Aziz's stable of 40+ fighters goes, they too could face potential punishment if the NAC determines that any of them lied about who they were represented by on their license applications in an attempt to deceive the commission.
LICENSING ISSUES
It's been 10 months since Abdel Aziz departed from his role as matchmaker and executive vice president of the promotion to focus on his management firm, yet as of this week, he still has not been added to Dominance MMA LLC's list of executive officers on the Nevada Secretary of State business entity database. He also hasn't applied for a license a Nevada State Athletic Commission. The NVSOS website lists Narwan Ghiasi, Abdel Aziz 's wife, as the sole officer, in spite of the fact that according to matchmakers and sponsors who have dealt with Dominance MMA, she has never handled any of the company's clients' management duties. Abdel Aziz has admitted in multiple interviews that he handles negotiations for all of his 4 -50 clients.
Ironically, instead of protecting Abdel Aziz from prosecution, the thinly veiled legal loophole of putting Dominance MMA (the company he started in 2008 while living in New York two years before he and his wife met) under Ghiasi's name actually hurt him more than it helped him.
Nevada is a community property state, meaning that both the courts and the state consider any property or businesses to be jointly owned by spouses.
Ghiasi's registration as the sole officer of Dominance MMA LLC on March 20, 2015, was nothing more than a last-ditch attempt by Abdel Aziz to convince the WSOF board of directors not to let him go.
One week later, on March 27, 2015, the board, which was then made up of former CEO Sig Rogich Rogich, treasurer Vincent Hesser, and investors Bruce Deifik,  Bruce Bendell Michael Paesano, and Shawn Wright, voted unanimously in favor of replacing Abdel Aziz with former Titan FC owner Joe Kelly.
According to former employees and executives, I spoke with, who agreed to speak under the condition of anonymity, WSOF founder Shawn Lampman initiated the vote but was forced to resign his position with the company to maintain WSOF's relationship with NBC Sports.
Lampman's removal I'm told was a result of a backhanded power play by Deifik, who was angling to purchase WSOF at the time. To initiate Lampman's departure, Deifik is said to have flown to NBC headquarters to meet with executives to inform them that his fellow partner and Las Vegas-based real estate and development vet would be going to prison for nine months for misdemeanor tax evasion, stemming from his failure to file tax returns for 2007 and 2008. Deifik returned to Las Vegas with a letter from NBC executives addressed to the same board of directors, informing the voting members that if they did not cut ties with Lampman, NBC would no longer broadcast WSOF events.
By the time Lampman reported to prison on April 9, 2015, Deifik had already let the promotion's brass know that Abdel Aziz wasn't going anywhere. The decision baffled everyone, considering the tangible proof they had amassed over Abdel Aziz's three years with the company, all of which clearly proved he was breaking NAC rules and putting the promotion and its licenses at risk.
Sources close to Lampman indicate that he too could be filing a lawsuit against both Deifik and NBC in the coming days or weeks. Multiple attempts to reach Lampman for comment and confirmation went unreturned.
CONFLICTED FROM THE START
One of the earliest conflict of interest complaints against Abdel Aziz involved former Bellator fighter Rick Hawn, who Abdel Aziz managed from 2012-2013.
According to a series of emails that was provided to realfightstories.com spanning between October 7 and November 14, 2012, Bellator threatened to sue Abdel Aziz and WSOF for tampering with Hawn's active agreement prior to WSOF 1. Emails sent to WSOF by Bellator;s lead attorney Pat English at the time, indicate that Abdel Aziz informed then-matchmaker Sam Caplan one month prior to the former Olympian's lightweight title fight with Michael Chandler, that unless he increased Hawn's purse for the bout, he would sign him to a WSOF contract.
At the time, English, who is a longtime boxing attorney and proponent of the ethical treatment of fighters in his own right, summarized Abdel Aziz's obvious conflict of interest as succinctly as anyone.
English wrote the following in a November 14, 2012 email sent to Ali's Florida-based attorney, Frank Smith in response to an e-mail Smith sent to Bellator claiming Abdel Aziz didn't manage Hawn:
"Your client must understand the position he is in. He purports to be a vice president and matchmaker for World Series of Fighting (WSOF). He has contacted Bellator fighters in the past on behalf of WSOF — a matter which was discussed with prior council for WSOF. He cannot divorce himself from WSOF simply by saying he is not acting on behalf of them. The fact of the matter is that he is a representative of a competing MMA promotion and that he suggested to Mr. Caplan that Mr. Hawn somehow had the right to renegotiate his contract with Bellator. That is in our view interference. In point of fact, it matters not whether Mr. Abdel Aziz styles himself as a manager or advisor," wrote English. "We were in fact informed that Mr. Abdel Aziz was assuming a manager role with Mr. Hawn. However styled, it is inappropriate interference by someone affiliated with a rival promotion. That interference is not the non-issue you alleged. It was, in fact, Rick Hawn, who sent a text to Sam Caplan which in part stated, 'I just want to let you know that Ali is my new manager.'"
As a result of Bellator's claims against Abdel Aziz, which he continued to deny in spite of mounting tangible evidence supplied by the promotion, Rogich, who is a former NAC chair, demanded written assurance from Smith guaranteeing his client wasn't involved in any COIs and that he wasn't managing fighters.
———-
Email from Rogich to Smith, dated Nov. 27, 2012:
Frank,
Called you a couple of times. I have talked to Ali as well in regards to protecting the company and our investors and partners. It is imperative  I get written assurance from you as Ali's lawyer that Ali is not managing fighters. It clearly represents a conflict. It must be cured to be in full compliance with the Nevada Athletic Commission. As much as we value Ali at WSOF, and we do, he cannot be a manager and vice president of WSOF. It's one or the other.
Sig
After much protestation by Ali's Florida-based Lawyer Frank Smith, the request was fulfilled but was soon proven to be as worthless as the paper it was written on.
———-
Email from Smith to Sig and his wife Lori Rogich (WSOF's attorney at the time), dated Nov. 30, 2012:
To Sig and Lori Rogich,
In response to your inquiry I have reviewed the relevant definition of a manager, which is set forth below:
NRS467 Sec01037
"Manager" defined.
1. "Manager" means a person who:
(a) Undertakes to represent the interests of another person, by contract, agreement or other arrangement, in procuring, arranging or conducting a professional contest or exhibition in which that person will participate as a contestant;
(b) Directs or controls the activities of an unarmed combatant relating to the participation of the unarmed combatant in professional contests or exhibitions;
(c) Receives or is entitled to receive at least 10 percent of the gross purse or gross income of any professional unarmed combatant for services relating to the participation of the unarmed combatant in a professional contest or exhibition; or
(d) Receives compensation for services as an agent or representative of an unarmed combatant.
2. The term does not include an attorney who is licensed to practice law in this state if the attorney's participation in any of the activities described in subsection 1 is limited solely to the legal representation of a client who is an unarmed combatant.
—
After discussing the above with Ali it does not appear that he is engaging in the conduct described in either statute rule as set forth above. As in such conflict,he is not a manager. I trust this will satisfy your inquiry.
Frank
———-
Other emails obtained by realfightstories.com, which were sent by Abdel Aziz from his personal email account around the same time as the Bellator complaint and after he submitted his signed declaration to Rogich, show that he also set up a shady deal for Hawn with Michael Mucha, who managed Michal Materla and Jan Blachowicz at the time. Materla was also the Polish rep for Manto fight wear. The deal would see his fighters receive inflated WSOF deals in return for a $2500 kickback from their purses to be paid in sponsorship to Hawn from Manto. In one email, Mucha explains that unless his fighters received a higher purse, he would not be able to afford the sponsorship because the deal hinged on him flipping his management fee back to Hawn, who would then pay Abdel Aziz his 20 percent.
For various reasons, the sponsorship didn't materialize. To help remedy the situation I actually got Rick a sponsor as a favor to him at the time, having met him through my work with Fundafighter.
Hawn responded last week to my request for comment on Abdel Aziz's Bellator and sponsor dealings on his behalf with the following statement on the matter:
"During that time [Ali] was trying to find me a good payday with my fighting career," Hawn wrote in an email. "Some of the deals he set up worked and some didn't, that's how it goes in the fight/sponsor business. No big deal to me."
One fighter who it was a big deal for was Blachowicz, who was punished by Abdel Aziz who felt slighted by Mucha, whose failure to ship out Hawn's shorts on time cost Ali a $500 payday.
LATEST NAC INVESTIGATION
NAC Commissioner Pat Lundvall confirms that the investigation of Abdel Aziz and WSOF is underway, but due to personnel constraints it may take some time.
"We are investigating [WSOF and Abdel Aziz]. Recognize that we do not have the resources to do this overnight but are proceeding with due haste," Lundvall explains. "Once an investigation is being considered or has begun by the NAC, however, we cannot make comment upon or comment about its status or resolution."
Lundvall's commission made an example out of boxer Zab Judah and his manager, who allegedly forged his client's fighter license application to hide the fact that he was behind on support payments. Judah was also caught falsifying his Social Security Number on his applications from 2014 to 2015 in an apparent attempt to hide the fact that he was in arrears for support, and that he had been convicted of felony robbery in 1998.
Because Abdel Aziz isn't currently licensed, and likely won't be for at least the foreseeable future, the NAC has limited powers to enforce sanctions on him. However, the commission can and will likely pass the case along to the Nevada State Attorney's (NSA) office so a thorough investigation can be done. If the state decides to lay charges against him, it could affect his asylum immigration deal he has.
One of the allegations against Abdel Aziz that the NSA will have to dig into is that he may have bet on matches that he made. Sources indicate that Abdel Aziz often bets on fighters he manages and that his sportsbook of choice is Las Vegas Race & Sports Book located in the Aria Resort & Casino. If the veracity of this accusation is proven, then an investigation into fight fixing will likely follow.
At any rate, there are two rather glaring reasons why Abdel Aziz still hasn't bothered to fill out an NAC manager application.
CRIMINAL RECORD
Firstly, he is a convicted felon and would have to state as much on the application form. As first reported last year by realfightstories.com, Abdel Aziz was incarcerated for 16 months for check and passport fraud in Colorado from 2001 until 2003 when he was released into FBI-NYPD Intelligence Division custody to become a paid confidential informant against a violent Muslim sect he was a member of prior to his arrest.
Abdel Aziz 's criminal record is protected by the Department of Homeland Security (DHS) who is sponsoring his stay in the United States so records of his criminal past are difficult for even law enforcement to access. However, realfightstories.com has uncovered this completed DHS APPLICATION FOR SIGNIFICANT PUBLIC BENEFIT PAROLE form that was submitted to and approved by the DHS on behalf of Abdel Aziz by the NYPD ahead of a trip to Trinidad and Tobago he took to meet with convicted terrorist Tyrone Cole. Cole, AKA Barry Adams, is an important leader of Jamaat ul-Fuqra, a violent extremist group operating under the auspices of Muslims of the Americas, an American-based Islamic-based non-profit organization.
https://www.youtube.com/embed/jriWOUhX1DY
Portions of the document have been intentionally left out at the request of a former NYPD intelligence department senior officer to protect the secrecy of the NYPD and FBI's intelligence gathering methods and CI protocols.
According to LE sources, the NYPD oversaw Abdel Aziz 's parole from 2003 until he was cut loose from the CI program in 2010 after the department lost trust in him due to what one former detective termed,  "his constant lies and deception of what he was doing." According to David Calla, one of his former handlers I spoke with in December, Abdel Aziz caused the department a lot of problems. Although he declined to elaborate, Calla did warn me about trusting Abdel Aziz on his word.
"He ruined a lot of reputations with his lies and deceit. I wish I could say more, but I can't," Calla told me back in December. "I will tell you this, though, if you ever interview him make sure you fact check everything he says because he is a habitual liar and will do whatever it takes to get himself out of trouble."
The FBI stopped using Abdel Aziz as an informant in 2008 after he failed back-to-back polygraph tests regarding his suspicious meetings and movements he made during a trip to Egypt he took that spring with revered MMA coach Greg Jackson.
Unbeknownst to Jackson, Abdel Aziz, who met numerous times with members of his target group while in Egypt, was picked up and questioned by FBI and CIA agents who had been keeping tabs on him during the trip for the NYPD. Following his return to New York, he was brought into the FBI's Joint Terrorism Task Force field office for a trip debriefing with the bureau and the NYPD's Priority Targeting Unit (PTU).
Below is the summary of what transpired at that meeting:
PTU / CI 184 Poly Update (Lt Marshall, Mon, 7 Apr 08, 0556 Hours):
• On Friday, 4 Apr 08, members of PTU were present at 290 Broadway New York, NY for the administration of a polygraph test to CI 184.
Details are as follows:
• At approximately 0915 hrs members of PTU and SA Tony Molloy debriefed CI 184 on any relevant activity in regards to the MOA.
• Debriefing ended approximately 1000 hrs.
• At approximately 1030 hours, CI 184 arrived at 290 Broadway for the administration of the polygraph examination.
• Introductions were made and initial interview began at approximately 1100 hrs.
• Initial interview consisted of basic and un-intrusive questions, such as:
Have you ever had a polygraph and who gave it to you?
What kinds of questions were asked?
Approximately how old are you.
Approximately how tall are you?
Do you take medications and what type?
The Polygraph examiner SA Mike Templeton explained the process to CI 184 and informed him that if he has any concerns he could stop at any time.
• CI 184 signed consent form and at approximately 1145 hrs test was administered.
The following eight questions were asked of the CI:
1. Are you now in NYC?
2. Are you currently employed?
3. Is today Friday?
4. Have you told anyone from a government other than the United States that you are cooperating with United States Law Enforcement?
5. Have you told anyone from a target organization under investigation that you are cooperating with United States law enforcement?
6. Before cooperating with the NYPD did you ever tell an important lie to someone who loved you?
7. Before you were incarcerated did you ever lie just to make yourself seem important?
8. Regarding the confidentiality of your relationship with United States law enforcement do you intend to be completely honest on this test?
• Test ended at approximately 1300 hrs.
• NOTE: All questions were asked four times in a different order and SA Templeton indicated he was deceitful on question #2 and #8. It should be noted that the degrees of deception did differ when examined on paper.
• SA Templeton than began questioning informant in regards to deceitful questions, insinuating he disclosed relationship in Egypt.
• Informant adamantly denied accusations over a period of time while SA Templeton provided CI with different scenarios on why he would have given out this information.
• Throughout pointed questioning the informant vigorously denied having done anything to indicate his relationship with U.S. L/E
• At approximately 1600 hours, the CI was provided a bathroom break. At this time members of PTU indicated to SA Tempelton different reasons why the CI may have appeared deceitful.
• NOTE: Approximately 1630 hours, the interview continued and information regarding past personal relationships and accusations from New Mexico were brought into question in an effort to embarrass the CI.
• At approximately 1715 hours, members of PTU terminated the interview.
• It should be highlighted that at no time did the SA Templeton directly ask the informant whether he was working for a foreign government.
• The Polygraph examiner then informed members of PTU that the exam will be labeled as deceptive with no admissions, interrupted and terminated by the NYPD.
———-
The decision was made to strap Abdel to the polygraph when it became clear that his answers to even the most trivial questions simply didn't add up. After failing the test, and stumbling miserably through a subsequent 10+ hours of FBI questioning, members of the NYPD's Priority Targeting Unit were instructed by intelligence division brass to storm the room and to get Abdel Aziz  out of there.  The CI was given one more opportunity by the bureau to prove he could be trusted. All he had to do was pass a follow-up test a few weeks later.
Again he failed to truthfully answer the same two of the polygraph examiner's questions:
Are you currently employed?
Regarding the confidentiality of your relationship with United States law enforcement do you intend to be completely honest on this test?
Failing one lie detector test was bad enough. Failing two raised too many red flags for the FBI's comfort. As such they chose to cut ties with Abdel Aziz.
Law enforcement sources I spoke to say that embattled former Pakistan Central Intelligence Agency station chief Jonathan Banks denied multiple NYPD and FBI requests for Abdel Aziz to travel to study and train at MOA leader Mubarak Gilani's fortified compound in Lahore. The official reason Banks gave for denying the request was that Abdel Aziz may have interfered with ongoing investigations in Pakistan.  Sources close to the situation, however, say it was a lack of FBI trust in Ali that prompted the multiple travel request rejections by Banks.
Abdel Aziz was granted asylum in January 2011 after claiming that he would be killed if he went back to Egypt since he helped MOA members travel to his homeland where they planted roots. Using his banker's box of hoarded documents as proof he worked for the NYPD and his infant daughter he had with Ghiasi at the time (they now have four children) as leverage, he was able to convince the judge to let him stay in the U.S.
Abdel Aziz was all but done with the NYPD at that point, a development that had been festering for over two years due in large part to the fact that Ali had been providing the NYPD with less and less useful verifiable intelligence. 
That was why he started Dominance MMA. He saw the NYPD money train nearing the end of the tracks and was setting himself up for a life outside of his stint as a CI. During that trip to Trinidad, intel came back that Abdel Aziz, who once co-owned a car dealership with Barry Adams' son Hussein — the North American MOA leader, was trying to set up other personal business opportunities for himself in Port of Spain, instead of gathering the requested intel he was paid, and paid well to gather.
His granted asylum came months after Ali was arrested for unlawful departure and reentry into the United States. Somehow Abdel Aziz was able to use the fake enhanced green card INS supplied him with at the request of the FBI to obtain a legitimate passport, which he used to fly to Abu Dhabi for UFC 112 in April 2010.
Abdel Aziz was detained and removed from his return flight on arrival from the UAE on the tarmac of JFK Airport in New York by agents from the Department of Homeland Security after coming back to the Big Apple from Abu Dhabi with his client Renzo Gracie and Gracie's entourage.
One of the stipulations of his residency in the United States is that he cannot leave American soil, which may be to his detriment, since sources who are and formerly were involved with MOA say there is a credible "fatwa," or unpaid bounty, on his head. The fatwa, they say  "came down" from the leadership the group he was a member of before turning CI.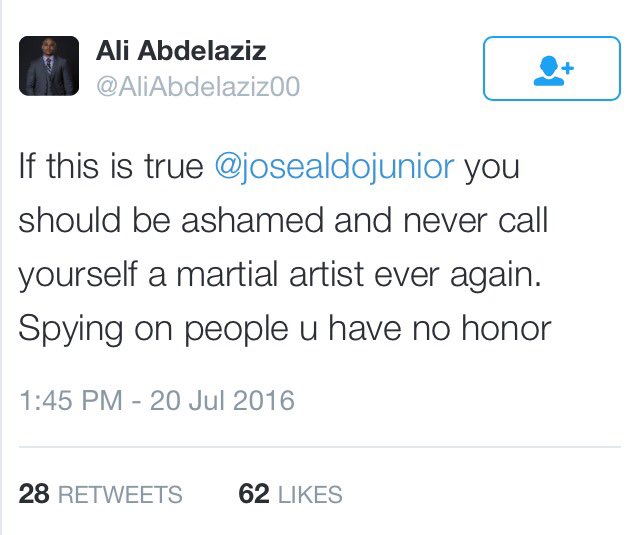 A SOMBER WARNING
In 2009 two senior NYPD ID officers flew to Las Vegas to try to persuade Zuffa executives not to use Abdel Aziz as one of Rashad Evans' coaches on season 10 of the Ultimate Fighter. Due to the highly sensitive nature of the operation, which was still in full swing at the time, they could only tell UFC brass that the request was due to national security issues. I'm told by sources with knowledge of that meeting that the concern was that if Abdel Aziz's cover was blown, Jamaat ul-Fuqra, who the FBI links to dozens of revenge murders and bombings in the United States, may try to seek revenge, and given that his only friends were fighters or members of the group, anyone associated with him could become a target.
Abdel Aziz's repeated ignorance of an NYPD directive to not host any of his famous fighter friends at this NYPD-funded and monitored Putnam Street apartment in Brooklyn (for the very same reason he was blocked from being on TUF), led to one particularly heated discussion with his handlers the second week of April 2008.
The two detectives had been parked kitty-corner to Abdel Aziz's building as they watched in stunned silence as then-former UFC welterweight champion George St-Pierre exited the apartment, loaded his bags into the trunk of a rental car and drove away. They confronted Abdel Aziz at the front door of his flat and threatened to remove him from the CI program as a result of his insubordination. It wasn't unusual for high-ranking MOA members to show up unannounced to crash at the apartment, which was sort of traveler center or "Dawah" for members of the group when they needed a place to stay close to LA Guardia when they had early flights to catch.
That particular incident happened just one week ahead of GSP's April 19, 2008, rematch with Matt Serra. St-Pierre had been finishing his training camp up at The Wat and Renzo Gracie's academy in New York City and had accepted Abdel Aziz's offer to crash on his pullout sofa for the night, before catching his early-morning flight back to Montreal for fight week. If anything nefarious had happened to St-Pierre that night, the department would have been held responsible, and the media backlash would have likely spelled the end of the intelligence division's valuable CI program.
In November 2014 a group of WSOF executives, including president Ray Sefo, and VP of operations Kevin Alires, gathered around then chief operating officer Keith Evans' computer for an impromptu closed-door meeting. The group stared in shocked silence for two minutes as Evans played them the video below, advertising "Twilight in America," the book Abdel Aziz collaborated with author Martin Mawyer on which detailed his secret life as a CI.
Evans was the first to speak at the commencement of the clip, expressing grave concern that a WSOF event could potentially be targeted as revenge against their VP and matchmaker. Shockingly, Evans' concerns went no further than that room and none of the shareholders or upper brass were ever notified of the risk involved with associating with Abdel Aziz.
DEADBEAT DAD
The second and less obvious reason Abdel Aziz has never applied for a manager's license in Nevada is that he is in arrears with support payments for at least one of his two sons he is estranged from.
According to the mother and stepfather of his 17-year-old son Noah [surname omitted to protect the identity and privacy of the minor], Abdel Aziz is more than $40K behind in court-ordered support payments, which he ceased paying over a decade ago. As they tell it, Abdel Aziz cut his son off financially after he allegedly informed the boy's mother in around 2005 that he was being deported and would not be able to visit or support him any more as a result.
As per his 1999 court-ordered support conditions, which were imposed after Abdel Aziz attempted to shirk his parental responsibilities and was forced to take a paternity test, Ali was to pay $400 per-month based on his then-income. He was working at the time under the table as a bouncer at a handful of Colorado Springs nightclubs and was supplementing his income by selling bootleg DVDs and counterfeit clothing out of the back of a windowless van.
By his count, when he cut his son off, which was around the same time he had a second son with the sister of a high-ranking MOA member, he was making hundreds of thousands of dollars as a CI for the NYPD. The reason he decided to start fighting was to help hide the exorbitant amounts of money he was making from the NYPD.
MATCHMAKER DILEMMA
When the NAC closed out its first inquiry into Abdel Aziz's illegalities last year, executive director Bob Bennett seemed satisfied with WSOF's glib claim that president Ray Sefo was the promotion's "matchmaker of record." Abdel Aziz got a little too cocky with his admissions.
In a December 18 interview by John Morgan for MMAJunkie's MMA Road Show confessed to everything, including the fact that he managed over 40 fighters — including all 6 WSOF champions — and that he was indeed mired in conflicts of interest.
"A couple weeks ago I met with Bob Bennett. To me he's an amazing guy. I sat down with him and we talked about my involvement with Dominance MMA, which of course is owned by my wife, but realistically, I can't be… I never lied and said I'm not a manager," Abdel Aziz explained to Morgan. "Of course I had a great team who was running the company, but I was involved. It's a conflict [of interest]. I didn't like it, but it's real. Now I gotta move on and I gotta make sure I follow the rules and regulations of the Nevada Athletic Commission. The Nevada Athletic Commission did not give me an ultimatum. They said I could continue doing what I do, it's just a very thin line. I have to be careful. I agree with them and I respect them very, very much. It was the best thing I ever did – went and sat down and talked to them."
"The [Nevada] Athletic Commission did not give me an ultimatum. They said listen, technically your wife can own the company and you can still do what you do, but I have to be real with myself and honest with the people I'm around and I have to make sure I'm doing the right thing here," Abdel Aziz confessed to Morgan. "I just sit down with everybody at World Series of Fighting and we talked about it and we both thought it was best for me to move on."
Regardless if he has moved on or not, Abdel Aziz should still have to answer for his crimes. Hopefully, the NAC takes this investigation more seriously and we see a full investigation this time around.
It's not like there isn't a lot of evidence prior to November 2015 when Bloody Elbow.com's investigative journalists Paul Gift and John Nash's coverage of Abdel Aziz's COIs first prompted the NAC to look more closely at what was really going on behind the curtain at WSOF.
Like this interview he did with MMAJunkie Radio regarding potential match-ups he wanted to match in an offer he made to Bellator to co-promote in January 2014:
"I'm gonna tell you something, my brother," Abdel bragged to Goze and Gorgeous George. "I match all day number one guys. I didn't even put Steve Carl [on the list of potential match-ups] and he's our champion."
Or this tweet from Ray Sefo:
I just wanna put a stop to the rumors about @AliAbdelaziz00 not being the match maker for WSOF which is completely false!!!

— Ray Sefo (@SugarRaySefo) September 18, 2014
A smoking gun if ever there was one.
THE DEIFIK CONNECTION
According to WSOF lore, Deifek's involvement with the promotion began with a slap to the face instead of a handshake.
As the story goes Deifik bought a car off of WSOF founder and Shawn Lampman, but failed to pay the agreed upon $125K asking price months after taking possession of the vehicle. They met at a Las Vegas whole foods, whereupon Lampman open hand slapped Deifik and demanded that he pay the money owing to him. Deifik reportedly handed over a Crown Royal bag filled with cash but came up close to half short.
As Lampman tells it, according to those who have heard the story, Deifik told him, "You can beat the sh*t out of me if you want to, or maybe I can help you with that fight promotion you're working on. I want to invest in it."
It's estimated that Deifik has approximately $15-million of his own money into the promotion, however, in private conversations he has pegged the number at about half as much.
A current lawsuit between Lampman's ex-girlfriend, Aymet Roman-Perez and Deifik is before the courts.
As Paul Gift explains in his story on WSOF's latest legal woes, Roman-Perez claims in her lawsuit that Deifik requested and received a $10k "charitable donation" (see kickback) from the $70k he paid her for her 1.5% stake in WSOF. As explained earlier in this story, Deifik actually forced the deal by pushing Lampman out of his role — a fact neither Lampman nor Roman-Perez knew at the time.
Included in the lawsuit's evidence are screen shots of text messages between Deifik and Roman-Perez. In the texts, the pair discuss the purchase price and Deifik demands that he receive the charitable donation in Apple Store, Nordstrom's and Best Buy gift cards, which he then used to purchase items like Ipads.
If the facts of the case are proven, Deifik could potentially be charged criminally with money laundering and wire fraud among other offenses, bordering on racketeering when you factor in the offenses he knowingly allowed Abdel Aziz to commit. As the majority shareholder of MMAWC, LLC,  Deifik's involvement with WSOF may cost the promotion its relationship with NBC and its promoters' license.
It will be interesting to see how this plays out between now and December 31.